Career Path to become Software Developer
Role / Profile

Who can become ?

Recruiters/Job Opportunities
Who is a Software Developer?

Software developers are professionals associated with the development of software and the various activities included in the process, including research, design, programming and testing. They are highly skilled in one or more programming languages and tools. Since the internet boom, software development has always been considered a highly lucrative profession, having multiple career opportunities in the industry.

What are the roles/responsibilities of a Software Developer?

Software developers usually work on the application of programming skills to develop software.

Some of the common roles and responsibilities of a software developer are:
• Development of well-organised, optimised and documented source codes
• Software testing in controlled, real situations before making it live
• Preparation of a manual for the users and maintaining the system once they are up and running
• Ability to collaborate with designers, business analysts, marketing team and other programmers to understand the product

What are the skills/tools associated with software development?

• Good knowledge of various programming languages like Java, C, C++, JavaScript and other popular ones
• Excellent debugging and problem-solving skills
• Proficient in the popular software development tools and platforms
• High level of analytical skills and give attention to details
• Fluent communication skills and the ability to understand requirements perfectly

What are the career outcomes after a Software Development certification?

With a software developer certification, you can expect to get opportunities in one of the following professional roles:

• Senior Software Developer
• Software Architect
• Project Manager/Product Manager/Team Lead
• Head of Engineering
• Chief Technology Officer

What is the average salary of a Software Developer?

The average salary for a Software Developer with less than 3 years of experience is around ₹ 3.6 Lacs per annum, while for a professional having more than 3 years of experience it is around ₹ 6.1 Lacs per annum. The average salary for someone with more than 10 years of experience is about ₹ 14 lacs per annum. With a certification, you can get an average of around 2-3 Lacs per annum more than non-certified candidates.

What are the advantages of becoming a Software Developer?

If you are looking to start a career in software development or looking to make a switch, there are a lot of advantages.

Some of the reasons are mentioned below:

• Information Technology (IT) is always going to play an important role in the economy of any country and hence, there will always be adequate job opportunities.
• If you are well-qualified and have a good knowledge of the latest technologies, there are a host of opportunities to get a job in one of the prominent companies in the IT industry.
• The need for software developers have grown beyond the IT industry over the years and you can expect to get opportunities across various industries.
• Most of the prominent start-ups are related to software applications and if you are a skilled software developer, you can have a good career path.
• The pay package of a software developer is usually higher than other professions and there are a lot of other benefits that come with it.

Which profiles can go for a Software Developer role?

• Fresh Graduates
• Web Developers/Web Designers
• Network Engineers/Database Administrators
• Computer Support Specialists
• Security Analysts

Who can become a Software Developer?

Fresh graduates – If you are a fresh graduate and want to become a software developer, you can acquire the skills through training.


Non-experienced professionals- If you do not have experience in software development, recruiters are less likely to hire you. Hence, such professionals take up a certification course to gain the required skills.

Experienced professionals – With the required experience in software development, it would be easy for you to get a job in the field.

Naukri Learning offers various courses on various programming languages and software development for various levels that can help you to boost your career, get better jobs and receive higher salaries.

What are the eligibility criteria for a software developer?

There are no fixed eligibility criteria for a software developer role. However, a majority of the professionals are from an engineering background with a degree in computer science or related field. You need to have good knowledge of some of the essential programming languages and a basic understanding of software development process.

Why are candidates going for a Software Development profile?

Software development has always been a desired profile by many engineering graduates as it offers good career opportunities and other benefits. It not only offers a better average salary than a lot of other professions but also offers a lot of challenges that makes it an interesting profile for a long-term career option.

Some of the other reasons why candidates go for a software developer role are:

Fresh Graduates- A lot of IT companies hire fresh graduates as software developers and some companies even provide training to improve their skills. However, to be ahead of the competition among the peers, you can go for a certification course and boost your career.

Web Developers/Web Designers-
For web developers and designers, software developer role is a step up in their career journey. It offers a better career growth and more opportunities in the future. By switching to a software developer role, web developers and designers can also get better salary packages.

Computer Support Specialists-
Customer Support Specialists can get certified and trained in one of the prominent programming languages and start a better career journey as a software developer.

Database Administrators-
If you are a database administrator and want to move to a profile that offers more challenges, then switching to software development will help you in your career satisfaction and growth.

What do recruiters want in a Software Developer candidate?

Recruiters usually look for the following points while hiring a Software Developer:

• Prior experience – Any prior experience in the field can make the recruiters interested in you. It is also great if you can have any transferable skills like programming, analytical, problem-solving and good communication.
If you do not have any prior experience, a certification can help pave a way to your dream of becoming a software developer.

• Key Skills – Java, C++, C, C#, Asp.Net, JavaScript, SQL, JQuery, PHP, AngularJS, Ajax and other related skills.

What are the top recruiters that hire Software Developers?

There are a lot of organisations that hire software developers, and if you are someone who is highly skilled in developing software, you can get opportunities from some of the top companies across the globe.
Some of the top companies that hire software developers are Oracle, Amazon, Accenture, Microsoft, IBM, Google and Intel.

Recommended skills for Software Developer
Data Insights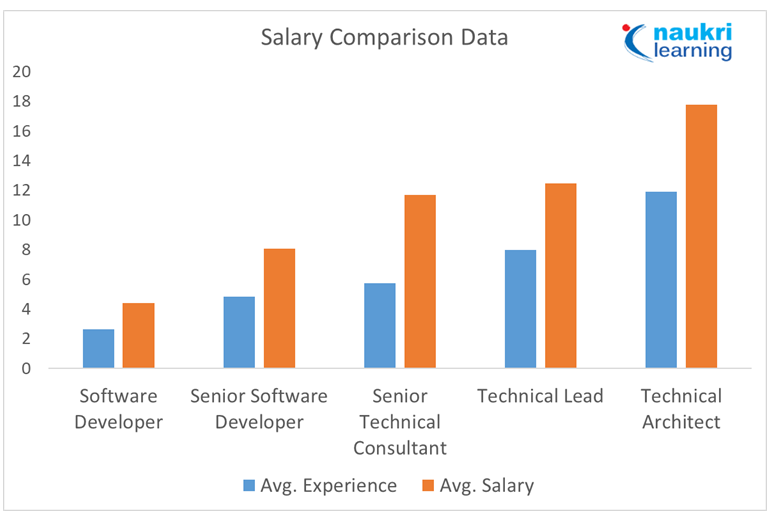 Companies Hiring




65535+ Jobs Available on Naukri
Other Career Paths for Software Developers