What is Software Architecture?
Role / Profile

Who can become ?

Recruiters/Job Opportunities
Who is a Software Architect?


A software architect is someone who makes high-level software designs and dictates technical standards encompassing platforms, standards and tools. It is one of the main roles in the IT-software product development and management sector.
What does a Software Architect do?
A software architect makes key decisions in the company's growth and innovation. He/she has to collaborate with other divisions from time to time to render a consensus based enterprise solution. Some of the main responsibilities of a software architect are:
• Works closely with executives to describe the benefits and justify the investment in the software architecture
• Solves disputes and technical issues
• Plans for new technology insertion
• Communicates well with others to make sure that they understand the requirements
• Ensures that both software and system architectures are in synchronization
• Sets quantifiable objectives that encapsulate quality attributes of a system
• Creates and distributes tailored views of software architectures
• Manages risk identification and risk mitigation strategies
• Identifies operational performance bottlenecks, and handle functional and quality requirements
What are the skills required to become a Software Architect?
Some of the requisite skills to become a software architect are:
• Ability to think and work in various levels of abstractions
• Advanced knowledge of software development technologies
• High-level of enthusiasm and make influential decisions
• Good negotiation and leadership skills
• Proficient in modeling techniques
• Expertise in handling technical, operational and business requirements
What are the career outcomes for a Software Architect?
Following are the career options for those planning to move in a software architecture domain.
• Senior software engineer
• Software consultant
• Chief technical engineer
• Project designer
• Design manager
• Technical project manager
What is the average salary of a Software Architect?
A software architect earns approximately Rs. 18.5 Lacs annually. However, this can vary depending on the experience and organization. A knowledge in C++ programming language is connected with high income for this job. If you are considering a career as a software architect, you can improve your earnings with a professional
certification course in software architecture
.
What are the advantages of a Software Architect?
Some of the main benefits of a software architect are:
• Boosts performance of the platform
• Identifies areas for potential cost savings
• Makes the platform faster
• Addresses system qualities
• Helps in risk management and reduce the chance of failure
• Allows quicker changes in the IT systems
Which profiles can go for a Software architect profile?

It is best suited for:
• Software engineers
• Project managers
• Web developers
• IT consultants
• Lead systems engineers
• Technical leads

Who can become a Software Architect?

• Non-experienced professionals – If you are from non-technical background, you need to learn programming languages or start as an intern to become a software architect. Start applying for programming courses and always be motivating to build a career in this field.

• Experienced professionals – One needs to have strong technical and analytical skills to become a software architect. One of the most important roles of a software architect is to understand the requirements of the customers and translate them into flow charts for programmers to code. A certification or internship can help advance the career.

What is the eligibility criteria for a Software Architect position?

A software architect requires a bachelor's degree in computer science, mathematics or related field. Besides this, he/she needs to have the technical knowledge to develop wide range of software. Those who show leadership and business skills have a better chances of advancement.

Why are candidates going for a Software Architect profile?

The increasing rate of technology evolution and the adoption of agile methods have seen a profound change in the roles and responsibilities of a software architect. Software architect can be a profile-building career and one can learn a lot about product and how customers use those product or what they need. It will help you to strengthen some of the professional and technical areas like software coding standards, tools associated with the job and the business side.
What do recruiters want in a Software Architect profile?

• Prior experience – Recruiters look at a candidate's academic and professional history, including the projects involved, while hiring a software architect. They also look for any outstanding contributions or noteworthy awards.

• Key skills –Java, Spring, C++, software development life cycle, Perl, JavaScript, Cloud computing, etc.

Top recruiters who hire Software Architect

McAfee, Oracle, Intel, Google, Accenture and IBM are some of the prominent companies that hire talented software architects who will help in successful software development and delivery.
Data Insights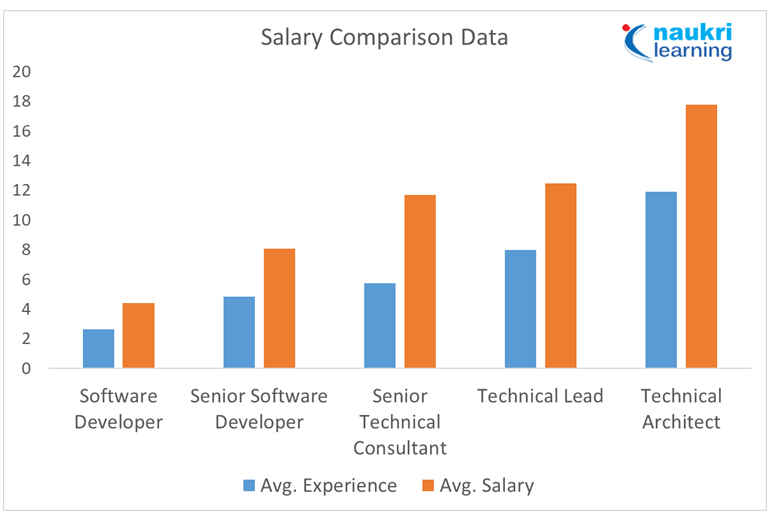 Companies Hiring