What is a Quality Manager?
Role / Profile

Who can become ?

Recruiters/Job Opportunities
Who is a Quality Manager?


Quality Managers are responsible for maintaining the quality of products or services provided by an organisation. These professionals check if a product or service is fit for purpose, consistent and meets both external and internal requirements. It includes both legal compliance and customer expectations. They handle all the related areas of a company's Quality Management System (QMS).
What does a Quality Manager do?
The role of a quality manager can vary from implementing quality standards within an organisation to maintaining the quality of the products or services according to the industry standards. Other common roles and responsibilities are described below:
• Ensure that the organisation's QMS conforms to internal, ISO, legal and other regulatory requirements
• Oversee the quality of the products or services, ensuring they are up to the standards followed by the organisation
• Lead a team of quality management professionals for the smooth functioning of the organisation's QMS
• Conduct periodic review meetings to keep the management informed about the quality standards of the products or services
• Communicate with the customers, clients, vendors and other stakeholders
Skills/tools associated with Quality Management
• Strong knowledge of industry and international quality standards
• Proficient in quality management tools or processes like Minitab, Six Sigma, Total Quality Management (TQM) or lean management
• Clear communication and effective analytical skills
• Understanding of various techniques and charts used in quality management like flow chart, Fishbone diagram, scatter diagram or statistical sampling.
• Good team management skills
What are the Career Outcomes after a Quality Management certification?
Getting a quality management certification can propel your career into new dimensions and you can expect any of the following career outcomes:
• Senior Quality Manager
• Quality Director
• Head of Operations
What is the average salary of a Quality Manager?
The average salary of a quality manager is around ₹ 8.5 Lacs per annum. It can go up to ₹ 18 Lacs per annum depending on the experience and organisation. You can get more than the average salary wih a certification.
What are the career advantages of becoming a Quality Manager?
For professionals who want to do a quality management certification, there is always a doubt if it is going to help them get in the right direction in terms of career. Here are some of the reasons that will prove you are going to make the right choice:
• Fresh graduates who want to start a career in quality management and hope to become a quality manager in the future will benefit a lot with a certification.
• Sales professionals can improve their career prospects by switching to a quality management profile. They can increase their chances of being a quality manager with a certification.
• Professionals who are in IT manual testing can boost their career with a certification and switching to a software quality management profile.
Which profiles should go for a Quality Manager role?

• Fresh graduates
• Sales professionals
• Quality Engineer
• IT/Test Analyst
• Quality Assurance Analyst
• Operations Manager

Who can become a Quality Manager?

• Fresh graduates –
If you are a fresh graduate and want to become a quality manager in the future, you can easily get opportunities in that career path if you have the skills and are certified.

• Non-experienced professionals

If you do not have experience in the field, recruiters are less likely to hire you. Hence, such professionals take up a course in quality management to gain the required skills and get certified.

• Experienced professionals – With the required experience in quality management, it would be easy for you to get a job.

Naukri Learning offers various online courses for aspiring quality managers that can help them to improve their career, get better jobs and higher salaries.

What is the Eligibility Criteria for a Quality Manager profile?

Though there is no fixed criteria to become a quality manager, one needs experience in quality management system and have leadership qualities. Most of the quality managers are from engineering, quality background or are certified in one of the prominent quality management certifications.

Why are candidates going for a Quality Management profile?

Quality management professionals are core to any organisation, whether it is service-based or product-based. These professionals ensure that the service or product offered by the company meets the requirements of the customers and help in retaining them. There is also a good career path associated with quality management, which is why professionals try to move to a quality management profile.
Here are some of the common reasons:

• Fresh graduates-
One cannot become a quality manager as a fresh graduate but if you start early you can reach that position quicker than others. This is why fresh graduates prefer to do a certification in quality management before starting their career.

• Quality Engineer/Quality Assurance Analyst- The next career step of a quality engineer or a quality assurance analyst is quality manager. However, there are more professionals than positions for quality manager. This is why professionals go for a certification course to get the requisite skills to overcome the competition.

• IT/Test Analyst-
Most professionals who are in IT manual testing can move to software quality management to improve their career growth. Software QMS teams usually have a broader area of communication with different teams and even the management. This is also the reason why professionals want to switch to QMS.

• Sales professionals-
Sales professionals want to switch to a quality management role as it is a less-demanding job with pretty decent career growth as compared to a sales role.
What do recruiters want in a Quality Manager candidate?

Recruiters usually look for the following areas while hiring a Quality Manager:

• Prior experience – Any prior experience in the field can make the recruiters interested in you. It is also great if you can have any transferable skills like knowledge in quality management tools, team management abilities and communication skills.

If you do not have any prior experience, a certification can help you get the required skills and knowledge of quality management.

• Key Skills – Six Sigma, Lean Management, Minitab, legal documentation, auditing, ISO standards, and customer handling.

Top recruiters who hire Quality Managers

Organisations hire quality managers to maintain the quality of their products and this impacts a lot in their business success. These professionals can help the companies to retain their existing customers and provide steps to keep the quality standards within legal boundaries.
A number of top companies like General Electric, Nestle, Coca-Cola, UnitedHealth Group, Johnson & Johnson, Amazon and Accenture hire quality managers.
Recommended skills for Quality Manager
Data Insights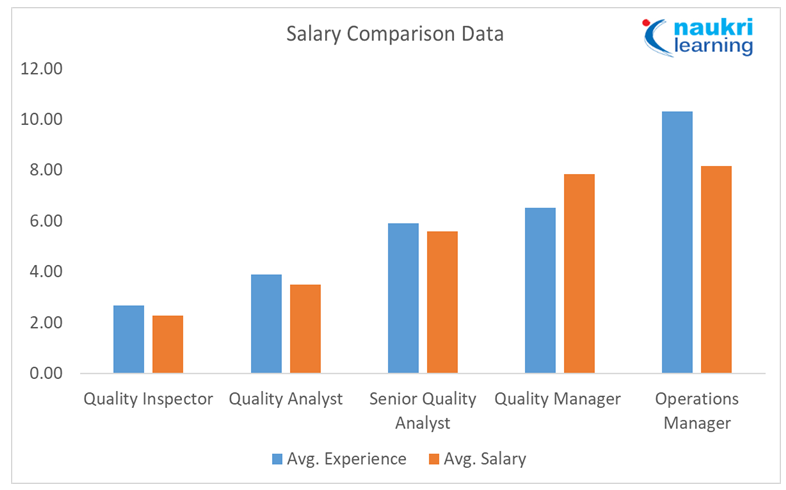 Companies Hiring


10148+ Jobs Available on Naukri