What is Project Manager?
Role / Profile

Who can become ?

Recruiters/Job Opportunities
Who is a project manager?


A project manager is a professional who takes charge of the overall planning and execution of a particular project. He/she works closely with the upper management of an organisation to make sure that the scope and schedule of a project are in the right direction.
What does a project manager do?
A project manager is responsible for the success of a project and is associated with a number of important roles, which are as follows:
• Planning the project. It is the most important role played by a project manager; determining the scope of the project and developing the schedule, along with the policies and procedures to achieve the objectives.
• Organising the team. A team is as effective as the organisational skills of a project manager. He/she identifies the roles and responsibilities of each team member and assigns duties accordingly.
• Controlling the flow of the project work by measuring, evaluating and correcting errors whenever required. Basically, he/she tracks the progress of the project and determines whether any corrective measures need to be taken.
• Communicating with the stakeholders regularly to give an idea of how the project is shaping up. Presenting reports to senior management after completion of the project for appraisal.
Explore courses by designations similar to Project Manager
Business Analyst Courses
What are the skills required for a project manager's profile?
To have a successful career in project management, a candidate should have the following skills:
• Excellent communication (verbal and non-verbal) and team management skills.
• Well-versed in any of the project management standard guides or methodologies like PMP, Prince2, Agile and Scrum.
• Practical knowledge of various software programs and tools used in project management.
• High-level problem-solving and analytical skills.
• Comfortable with change and flexible to work in dynamic working environments.
What are the career outcomes after a project manager certification?
A certification in project management will provide a boost to your career and if you have the right amount of experience, you can be eligible for the following career outcomes:
• Project Manager
• Senior Project Manager/Program Manager
• Vice President/Director
What is the average salary of a project manager?
The average salary of an entry-level project manager is approximately ₹ 6 Lacs per annum, while a mid-level professional earns around ₹ 11.5 Lacs per annum. Senior or experienced project managers have an average salary of around ₹ 15 Lacs per annum. The salary of an individual may also vary according to his/her experience, qualification and organisation.
What are the career advantages of becoming a project manager?
The job of a project manager is a very demanding one but there are a lot of perks that one can enjoy. Some of the advantages in terms of career are:
• The work associated with project management gives professionals an opportunity to meet new people and grow their network. Meeting different people and working with them can also be beneficial for professional development as one can learn a lot of new things.
• As a project manager, one can learn about time management, which is essential for the success of a project. This ability to manage time efficiently can play an important part in both professional and personal lives.
• A project manager has to apply his/her analytical skills whenever a project requires and provide quick solutions to problems. This enhances one's creative abilities and enables one to make swift decisions.
• Most of the project managers are fairly compensated and enjoy a lot of benefits. The growth path is also clear and they can get good opportunities to move to a better profile.
Which profiles can go for a project manager role?

• Operations Executives
• Software Engineers/Software Developers
• Assistant Project Managers
• Team Leaders

Who can become a project manager?

• Non-experienced professionals – To become a project manager, one needs to have a certain amount of project handling experience or should have a certification. Non-experienced professionals can go for a professional certification to improve the chances of becoming a project manager.
• Experienced professionals – Professionals who have already handled project responsibilities can get certified to boost their career and become a project manager.

Naukri Learning offers a plethora of professional courses in project management like PMP, Prince2, Agile, and Scrum.

What is the eligibility of a project manager?

There is no fixed eligibility to become a project manager. However, a large percentage of project managers across different industries are certified in one or the other popular certifications like PMP and Prince2. Nearly all of the project managers have a good knowledge of project management and have handled project responsibilities before.

Why are candidates going for a project manager role?

• Software Engineers/Software Developers – In IT Industry, organisations prefer project managers who have a technical background. Software developers and engineers can get certified to become project managers and improve their career.
• Assistant Project Managers – As an assistant project manager, a candidate has some amount of experience in handling projects. With the help of a certification, such professionals can boost their career and earn a higher salary as a project manager.
• Operations Executives – The career transformation from an operations executive to an operations manager happens with the right amount of experience, which one acquires over a period on the job. However, a candidate can start a career in project management by getting certified and enjoy a better career path.
What do recruiters look for in the candidature of a project manager?

Recruiters usually look at the following areas while hiring a project manager:

• Prior experience – It is desirable to have worked on projects to be hired as a project manager. However, if you do not have all the required skills, then you can go for a professional course in project management. Some of the transferable skills like team management, clear communication, and analytical & problem-solving skills can improve your chances of getting a job.
• Key skills – project management, cost estimation, project planning, Agile, Scrum Master, PMP, Prince2 and project execution.

Who are the top recruiters hiring project managers?

Project managers are sought by many top companies and one can get the opportunity to work in some of the biggest projects in the industry. Amazon, Accenture, IBM, Fidelity, JP Morgan and SAP Labs are some of the big companies who hire skilled project managers.
Data Insights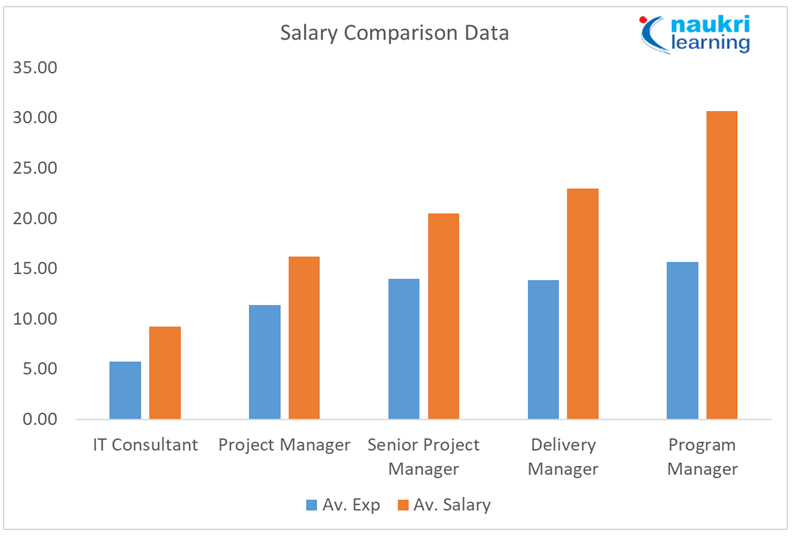 Companies Hiring


31219+ Jobs Available on Naukri