What is PPC Expert?
Role / Profile

Who can become ?

Recruiters/Job Opportunities
Who is a PPC Expert?


A pay per click expert is someone who specializes in managing pay per click media strategies for clients. He/she performs tasks like split-testing, establishing new media campaigns to run on search engines and keyword optimization. PPC experts use their knowledge to advice on how to get the most out of the results of a PPC campaign.
What are the roles and responsibilities of a PPC Expert?
A PPC expert supports initiative that will contribute to the success of client campaign. Some of the other job responsibilities include:
• Overseeing search platforms accounts
• Monitoring budgets and adjusting bids to get better return on investment
• Finding ways to reduce risk of fraud failure
• Providing creative copy suggestions and graphical ad templates
• Presenting reports to audiences
• Optimizing PPC campaigns
• Defining PPC strategy for a variety of clients
• Reviewing all ad campaigns
What skills are required to become a PPC Expert?
If you are looking to make a career as PPC expert, take
PPC certification programs
. You will need following skills to become a PPC expert:
• Quick decision making
• Deep expertise in google AdWords, Bing ads or Facebook ads
• Not afraid to fail
• Staying updated
• Logical thinking
• Passion for excel
• Desire to learn
• Strong communication skills
What are the career outcomes for a PPC Expert?
Following are the career options for a PPC expert:
• PPC manager
• Head of PPC paid media
• Head of SEM (search engine marketing)
• Head of digital
What is the average salary of a PPC Expert?
The average salary of a PPC expert approximately is Rs 400,000 annually. The most associated skills connected with this profile are online marketing, web analysis, google analytics and link building.
What are the advantages of a PPC Expert?
PPC advertising is the best way to attract traffic to your website. And there are many reasons to hire a PPC expert:
• Keyword research is not an easy task and PPC experts spend a great time throughout the PPC process
• PPC experts have a superb understanding of how to find a good copy
• Excellent care of landing page content
• A clear understanding of PPC terminology
• Got the knowledge, time, tools and the passion
Which profiles can go for a PPC Expert profile?

It is perfect for those who want to learn pay per click to boost their online marketing skills.
• Entrepreneurs
• Graduates
• Freelancers
• Marketing professionals

Who can become a PPC Expert?

Non Experience - If you don't have experience in PPC, take up a certification program and master two pillars of PPC: Google AdWords and Bing ads. Once you have learned the skills, you can work in any field and create campaigns that will entice the audience.

Experience - You need to know google AdWords, Facebook and Bing ads to excel in this field. Moreover, deep understanding of business will help you make good decisions in campaigns.

What is the eligibility of a PPC Expert?

You don't need to have a specific degree to be in this field. Interviewers look for communication skills and analytical skills, which can come from a range of degree disciplines.

Why are candidates going for a PPC Expert profile?

PPC is growing and no business can survive for long without promoting the products and services to the audience. It is popular in driving sales and revenue in short span. It is a good career choice and many people learning the skills to prove themselves and stay ahead of the competitors.
Top recruiters who hire PPC expert

Prior experience - Recruiters look for an aspirant who has a better understanding of the skills and knowledge like online marketing, SEO, google AdWords, pay per click campaign and search engine marketing. Besides this, they look for strong analytical and communication skills.

Key Skills: Market research, Wordpress, Google Adwords, Digital Marketing, Web analytics, SEO, SEM, Campaign Management, etc.

Top recruiters who hire PPC expert

There are many companies like iProspect India, Pinstorm, BCWebwise and many more looking for talented people focusing on analytics and creative aspects of things.
Data Insights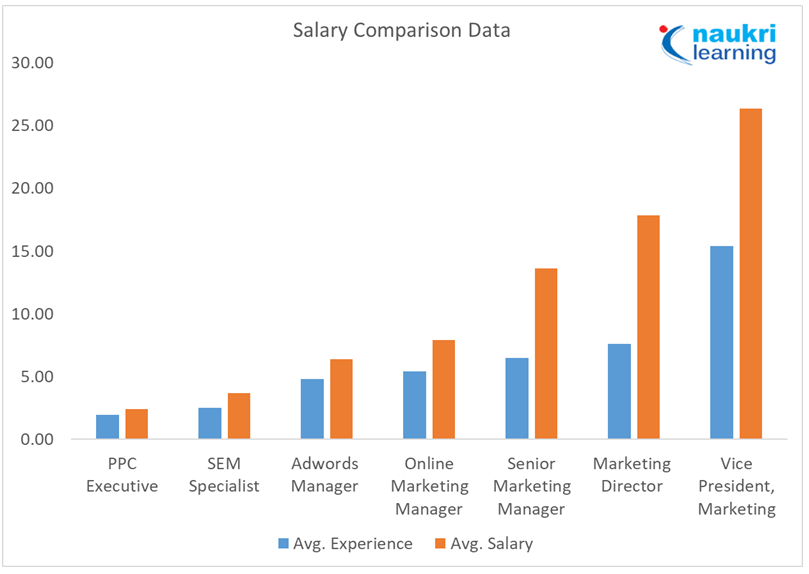 11023+ Jobs Available on Naukri