Career Path to become Mobile App Developer
Role / Profile

Who can become ?

Recruiters/Job Opportunities
Who is a Mobile App Developer?

Mobile App Developers are software developers who specialise in developing software applications for mobile platforms like Google's Android and Apple's iOS. These professionals have the same profile as software developers and have strong programming skills in different languages as per the mobile operating system platform (e.g. Java for Android and Objective-C or Swift for iOS).

What are the roles and responsibilities of a Mobile App Developer?

The basic role of Mobile Developers is to create applications that run on mobile platforms. Some of the common roles and responsibilities of a Mobile Developer are:
• Understanding the client's or organisation's requirements and proposing solutions accordingly with other members of the development team.
• Developing applications individually or as a part of a team keeping in mind its usefulness, innovativeness and user-friendliness.
• Troubleshooting and debugging post development to improve user experience and optimal performance of the application.
• Working with the product and marketing teams to plan features that will serve the purpose of development and create features that are marketable.
• Staying up-to-date with the latest technologies, concepts and best practices regarding mobile application development.

What are the skills/tools associated with Mobile App Development?

• Demonstrated skills in programming in languages like Java, C#, Objective C and Swift.
• Familiarity with OOP (object-oriented programming) design principles.
• Knowledge of mobile applications, third-party libraries and APIs.
• Excellent analytical, and problem-solving skills.
• Ability to work in a team and meet deadlines.

What are the career outcomes after a Mobile App Development certification?

With a certification in Mobile App Development, you can expect to get opportunities in one of the following job profiles:
• Senior Software Developer/Mobile App Developer
• Senior Web Developer/Systems Developer
• Video Game Developer
• Team Lead, IT/Manager, Software Development

What is the average salary of a Mobile App Developer?

The average salary for a Mobile App Developer is approximately ₹ 3.5 Lacs per annum and with experience, along with a certification, one can earn more than ₹ 9 Lacs per annum. Certified professionals, usually, have a better career performance and earn relatively higher pay packages.

What are the advantages of becoming a Mobile App Developer?

Mobile Apps are becoming all the rage nowadays and there are a lot of opportunities in this industry. Apart from that, there are a lot of other advantages of becoming a Mobile App Developer which are mentioned below:
• The market for mobile apps is huge and there is a great demand for experienced professionals. You can find opportunities in some of the best companies in the world as most businesses now build an app; both as a means to reach out there customers easily and advertise their business.
• Mobile app developers can enjoy the same amount of work flexibility that a software developer enjoys. You can work from anywhere, anytime within your comfort levels.
• As a mobile app developer, you can have the satisfaction of creating something which people would enjoy using. You will have a sense of accomplishment and satisfaction with your work.
• In mobile app development, you will face a lot of challenges that will improve your skills. You will also get to work on the latest technologies, helping in your career improvement.

Which profiles can go for a Mobile App Developer role?

• Fresh Graduates
• Web Developer/Software Developer
• System Administrators/Network Administrators
• Web Designers/Graphic Designers
• Technical Support Specialists

Who can become a Mobile App Developer?

• Fresh Graduates – Fresh graduates can improve their chances of getting a job or get a better starting salary if they have a certification.

• Non-experienced professionals
It is not easy to get a Mobile App Developer job with no experience and skills. This is the reason a lot of candidates go for a mobile app development certification course to improve their chances of getting a job.

• Experienced professionals – If you have the right knowledge, experience and skills in the field of mobile application development, then you can easily receive a lot of opportunities for the position of Mobile App Developer.

Naukri Learning offers a variety of online mobile app development courses which will help you to boost your career, get better jobs and receive higher salaries.

What is the eligibility of a Mobile App Developer?

There are no fixed eligibility criteria to become a Mobile App Developer. However, to become one you need to know programming languages and have a basic idea of mobile applications. Most of the Mobile App Developers are from a computer science engineering background or had attended a professional training course. Also, if you have a certification, you will have an added advantage over non-certified professionals.

Why are candidates going for a Mobile App Developer?

Mobile App Developers are among the most sought-after professionals in the IT industry and there has been a growth in the opportunities for skilled ones. Outlined below are the reasons why so many of the candidates are going for a Mobile App Developer profile:

• Fresh Graduates
Starting your career as a Mobile App Developer can open a lot of opportunities in the future. Software development profiles provide a good career growth as compared to other IT roles.

• Web Developers/Software Developers
• There are a lot of general web developers and software developers in the market, which increases the competition among the professionals. As a skilled mobile app developer, you can have less competition and more opportunities.
• Mobile app development is more specialised and hence candidates find it easy to gain expertise, leading to better career growth.

• Web Designers/Graphic Designers
• Though graphics designers and web designers enjoy good job opportunities in the market, if you have development skills as well, you can expect higher than average salaries received by development profiles.
• The average salary of a mobile app developer is also higher than that of a web designer/graphic designer.


What do recruiters want in a Mobile App Developer?

Recruiters usually look for the following points while hiring a Mobile App Developer:

• Prior experience – If you already have some amount of prior experience in the field of mobile app development, finding the right opportunity will not be difficult for you.
However, if you do not have any prior experience, a certification can help pave a way to your dream of becoming a Mobile App Developer.

• Key Skills – Java, C#, Swift, Objective-C, JavaScript, Android SDK, MySQL, and HTML5.
•
Which are the top recruiters that hire Mobile App Developers?

Mobile App Developers are highly sought-after in the IT industry and one can get a chance to work with some of the top organisations in the world. Some of the top recruiters that hire them are Amazon, Adobe Systems, HCL, Wipro and DXC Technology.

Data Insights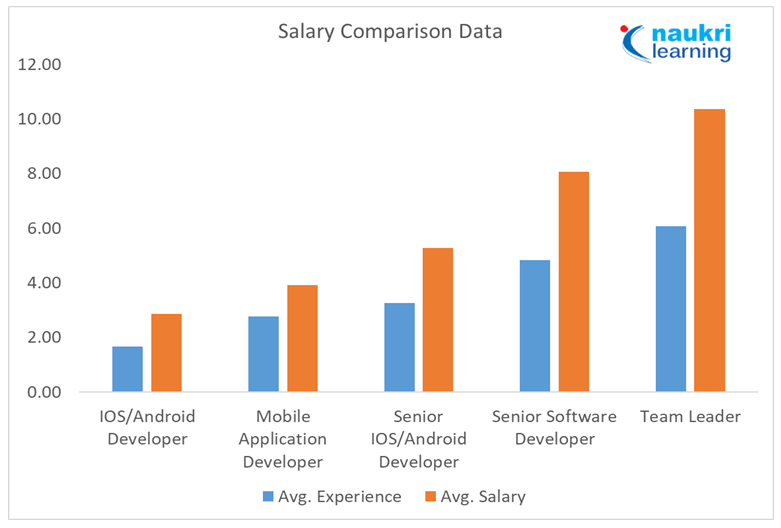 65535+ Jobs Available on Naukri