What is HR Manager?
Role / Profile

Who can become ?

Recruiters/Job Opportunities
Who is a HR Manager?


Human Resources manager directs, plans and coordinates the functions of a company. He/she is involved with career development, employee relations, compliance, benefits, grievance issues, etc. Depending on the size of the company, HR jobs may have clearly defined responsibilities.
What is the role of a HR Manager?
The responsibility of a HR manager is not only to recruit people but has the competitive strategy and goals to accomplish it.
• Hires new employees for the clients
• Manages administrative processes at the client
• Runs internal talent management programs
• Ensures the rights of the employees are established in their company
• Tracks the attendance as per the database and pay the employee accordingly
• Builds succession plans
• Tackles multiple projects at once
What are the skills required to become a HR Manager?
There are five important skills for successful human resources manager:
• Great negotiation
• Sensible ethics
• Discrete and ethical
• Strong multitasking abilities
• Excellent judgement
What are the career outcomes for a HR Manager?
• General Manager
• Labor relations specialist
• HR director
• Human resources IT specialist
• International human resources manager
• Chief human resources manager
• HR entrepreneur
What is the average salary of a HR manager?
The average salary of a HR manager is Rs 613085 annually. However, this can vary depending on an araray of factors.
What are the advantages of a HR manager?
Some of the top advantages of a HR manager are:
• Helps in building an organizational culture
• Helps in building values in a company
• Provides ideas with strategic thinking
• Conceals all the financial decisions of the company
• Exposes to a better level of growth in one's professional career
• Provides better management experience
Which profiles can go for a HR manager profile?
A human resources manager profile is perfect for:
• Staffing managers
• Fresher
• Junior level human resource professionals
• Administrators
• Compensation analysts
Who can become a Human Resources manager?

Fresher- If you are from non-HR background, you will have to face a slight challenge in the field. However, a certification can help you gain an in-depth knowledge in the project risk management area. This will set you apart from the applicants and develop capabilities in the workplace.

No Experienced Professionals-If you are planning to build a career in human resources, you should try to gain some real world experience. A certification in human resources management will enhance your learning experience and you will learn about employment law, labor management and compensation.

Experienced Professionals- Human resources managers must stay up-to-date with employee benefits, records and policies that govern the employee rights like sexual harassment. You must have interpersonal, organizational and leadership skills to become a HR manager.

What is the eligibility of a HR manager?

A bachelor's degree in human resources or a related field is required to become a HR manager. You may also need 4 years of experience. Further, a human resources manager is expected to have qualities like trade unions, foreseeing future needs of employees, speaking skills, empathy with human problems, etc.

Why are candidates going for a HR manager profile?

HR manager position requires a lot of patience and is an important resource of any company. It is a backbone of any company. Providing right person for better growth of a company, human resources profile is something needed everywhere. It is the most important job in the globe. If you are looking to build a career in this field, you will encounter lots of competition. As a result, you can aim for highest degree or a certification program so that you move up to a higher positon.
What do recruiters want in a HR manager profile?

Prior experience- The recruiters look for a career progression and the levels of responsibility. Besides, specific experience for the role. They also pay an attention to education, fancy formatting, personal details and cover letters.

Key Skills: Recruitment, HR policies, payroll, HR business partner, administration, employee relations, HRIS, etc.

Top Recruiters who hire HR Manager

Companies like amazon, AT&T, Flipkart, Google and dish network hire HR managers to handle everything from benefits, compensation, termination, training and other employee related functions. In addition, they check your management skills and a bachelor's degree.
Data Insights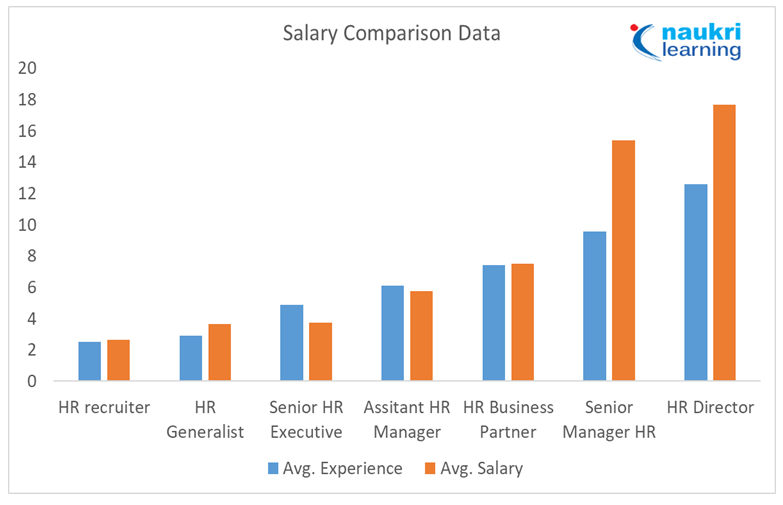 Companies Hiring


15103+ Jobs Available on Naukri