What is Hadoop Administrator?
Role / Profile

Who can become ?

Recruiters/Job Opportunities
Who is a Hadoop Administrator?


A Hadoop administrator is someone who manages and administers Hadoop clusters and all other resources in the entire Hadoop ecosystem. He/she is responsible for keeping the organization's Hadoop clusters running efficiently.
What does a Hadoop administrator do?
A Hadoop administrator works closely with network database, application and business teams to make sure business applications are highly available. He/she is responsible for development on Hadoop technologies like MapReduce, Tez, Hive, Pig, etc.
Profile
The role of a Hadoop administrator is to prevent problems and enrich the overall performance. Have a look at day to day activities of a Hadoop administrator:
• Implementing and managing the overall Hadoop infrastructure
• File system management and monitoring
• Monitor Hadoop cluster security and connectivity
• HDFS maintenance and support
• Review and manage Hadoop log files
• Responsible for estimating the requirements for lowering the capacity of a Hadoop cluster
• Backup and recovery tasks
• Ensure that the Hadoop cluster is running all the time
Skills required to become a Hadoop administrator
• Good knowledge of Hadoop and Linux
• Basic knowledge of memory, networks, OS and storage
• Core java is a plus but not mandatory
• Knowledge of automation tools such as chef for non-trivial installation or puppet
• Good hold of shell scripting
• Hadoop skills like Mahout, HBase, Hive, etc
What are the Career Outcomes after a Hadoop Administration certification?
Following are the career opportunities available for Hadoop administrator:
• Hadoop system administrator
• IT storage administrator
• Data base developer
• Junior system administrator
• Data management analyst
• Business service administrator
• Big data engineer
What are the advantages of a Hadoop Administrator?
• Organizations are looking for experienced Hadoop professionals from various business industries like healthcare, retailers, sports and financial firms
• An exciting part of the big data world to meet the challenges of the fast paced digitizing era
• The job listings on simplyhired.com, indeed.com and dice.com show the huge demand for experts with Hadoop skills in 2017
• Increased pay package
Which profiles can go for a Hadoop administrator?

• Mainframe developers
• Software developers
• Data analyst
• Fresher's
• Project managers

Who can become a Hadoop administrator?

Fresher-One should have hands-on experience in Hadoop to get a job in top notch companies. He/she can brace his/her skills by taking up a certification in Hadoop administration.

Non-experienced Professionals -The best way to gain Hadoop skills is through training program that will cover the steps require to operate Hadoop clusters from configuration, installation to tuning your cluster. An array of professionals like software developers, IT managers, storage admins and data warehouse professionals interested in Hadoop administration can take advantage from the course.

Experienced Professionals-Hadoop is becoming part of production environment in many companies. This has increased the need for Hadoop administration experts to handle the large Hadoop clusters. The most essential requirement to become a Hadoop administrator is Hadoop skills to add and remove nodes, monitor main parts of the cluster, deploy Hadoop cluster and configure name-node high availability.

What is the Eligibility Criteria for a Hadoop Administrator profile?

There is no eligibility criteria to become a Hadoop administrator. But comprehensive Hadoop training can help you gain the skills to build a career in this field. You will be able to learn the practices required to introduce Hadoop into a company.

Why are candidates going for a Hadoop administration profile?

One of the most trending topics in the IT world, the current market shows the need for experts skilled in Hadoop Administration. Organizations are looking to hire competent Hadoop skilled talent than before. Many people from different backgrounds are concerned about gaining expertise in Hadoop components. Taking the certification will make a difference in getting a job as a Hadoop developer. It is not the tech organizations that are offering Hadoop jobs but all types of firms encompassing healthcare, finance, retail, etc.
As per the pay package, Hadoop admins are leading the race. It is a perfect time to update yourself with necessary skills and accelerate your career.
What do recruiters want in a Hadoop Administrator profile?

Prior experience-
Recruiters look for the skills and experience required to succeed in this role. They look on how many years of experience he had in the previous organization. Applicants are those who attend an interview with a positive attitude. Strong work experience is not enough, one must be good at data-driven problem solving approach.

Key skills: Oozie, Sqoop, SQL database, Hadoop architecture, Core java, Hive

Top recruiters who hire Hadoop administrators

If you browse any of the job portals, you will come across endless jobs in Hadoop. Organizations like Facebook, Yahoo, AOL, Ebay and Infosys are looking for Hadoop professionals. The job market is rewarding for people with Hadoop skills and is intensifying at a great pace.
Recommended skills for Hadoop Administrator
Data Insights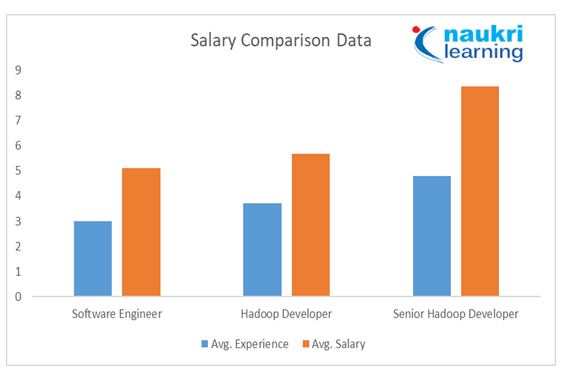 Companies Hiring




2351+ Jobs Available on Naukri