What is Financial Manager?
Role / Profile

Who can become ?

Recruiters/Job Opportunities
Who is a Finance Manager?


Finance managers are responsible for day-to-day financial operations in the organization. They produce financial reports, develop strategies and stay up-to-date with technology advances. A finance manager is a person who maintains a far sightedness to make sure the funds are used in the efficient manner.
What does a finance manager do?
A finance manager oversees the preparation of financial reports, direct investment activities and implement cash management strategies. He/she is responsible for rendering guidance to clients and employees so they make decisions that help in the growth of the business.
Profile
Finance manager's main responsibility is to monitor an organization's finances and find ways to reduce the costs. The main duties of a finance manager are:
• Managing teams who do financial reporting
• Controlling income, cash flow and expenditure
• Liaising with managerial staff
• Monitoring cash flows and predicting future trends
• Understanding capital markets
• Arranging new sources of finance for an organization's debt facilities
• Formulating strategic plans
• Keeping abreast of changes in legislation
What are the skills required to become a Finance Manager?
Some of the requisite skills to become a finance manager are:
• Excellent communication skills
• An analytical and logical approach
• Ability to work on your own initiative
• Good IT skills
• Negotiation skills
• Good time management skills and ability to lead and motivate others
• Understanding of the financial markets
What are the career outcomes for a Finance Manager?
There is a tremendous range of options for those looking to build a career in finance, which are as follows:
• Senior finance manager
• Chartered financial analyst
• Credit manager
• Risk manager
• Financial officer
• Chief financial officer
What is the average salary of a Finance Manager?
The average salary of a finance manager approximately is Rs 100, 0000 annually. It totally depends on the skills and years of experience.
What are the advantages of a Finance Manager?
Following are the main advantages of a Finance manager:
• Good knowledge, confidence and a plan to reach finance goals
• Many career opportunities
• Job outlook and security are great
• Great job growth
• Allocate financial resources effectively and gain greater efficiency in operations
Which profiles can go for a Finance Manager role?

This is perfect for following profiles:
• Budget analyst
• Insurance sales agent
• Accountant
• Loan officer
• Personal financial advisor
• Financial analyst
• Non-finance managers

Who can become a Finance Manager?

Non Experienced professionals- If you are from non-finance background, don't fret as you can enhance your skills by taking up a certification course. This will cover financial concepts, financial documents and a range of finance controls. This is perfect for those who are from a different background and wish to gain deep understanding of financial processes.

Experienced professionals- More than 5 years of experience is needed to become a finance manager. Besides, analytical and organizations skills for better career advancement. A certification program in finance may also lead to many job opportunities.

What is the eligibility of a finance manager?

The path to finance manager begins with a bachelor's degree in finance, business, accounting or related field. Many companies look for at least 5 years of experience in finance or administration. Those who show communication skills and a good knowledge of financial markets have great chances of advancement.

Why are candidates going for a Finance Manager profile?

The growth of financial managers is expected to grow 7 percent through 2024. This lead to high demand for finance managers as organizations will need someone with knowledge in planning, coordinating and directing investments. Moreover, non-finance managers can obtain the benefits by gaining an understating of financial documents and processes. Many courses are available that offer non-financial professionals a chance to complete working knowledge of financial concepts.
What do recruiters want in a Finance Manager profile?

Prior experience
Recruiters focus on skills, experience, certifications and achievements. One can focus on accomplishments followed by keywords that fetch the recruiter's eye.

Key Skills Accounting, infrastructure finance, tax audit, balance sheet, cash flow, etc.

Top recruiters who hire Finance Manager

A formal accounting qualification, analytical ability and management experience are some of the skills that entice the top recruiters like Amazon, JP Morgan, Genpact, Accenture, Ernst & Young, Ocwen financial group and many more.





Data Insights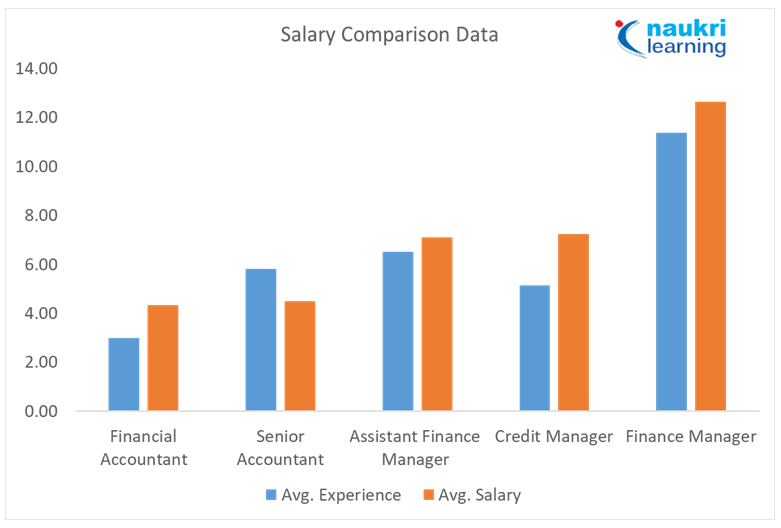 12512+ Jobs Available on Naukri