What is Data Scientist?
Role / Profile

Who can become ?

Recruiters/Job Opportunities
Who is a Data Scientist?
Data scientists are professionals who are responsible for extracting insights or knowledge from data (both structured and unstructured) in various forms. Data scientists have a melange of skills —mathematical, computer science and trend-spotting. It is considered to be one of the most lucrative jobs in the current years.
Professionals in Data Science are also interested in taking up courses & certifications like
Machine Learning Courses
ITIL Courses
Data Scientist Responsibilities
The major role of any data scientist is to wrangle data. To understand clearly, outlined below are the most common roles and responsibilities associated with the profile:
• Manage large amounts of data collected from various sources
• Uses their analytical ability and tools to determine useful insights from the data
• Build mathematical models and applications to present the information to the stakeholders
• Create visualisations to understand the data better
• Maintains the data for further analysis with future data
Data Scientist Skills
• Skills in predictive modelling and distributed computing
• Analytical, story-telling and visualising skills
• Proficient in maths, statistics and
machine learning
• Knowledge of programming languages like R,
Java
, SQL and
Python
• Expert in technologies/tools/software like
Hadoop
, Pig, Matlab,
Hadoop
,
SAS
,
Spark
and
Hive
Data Scientist Career Path
With a
certification in data science
, you can get the opportunity to work in one of the following positions immediately or in the future:
• Data Architect
• Data Science Manager
• Principal/Chief Data Scientist
• Director of Engineering
• Consultant – Data Scientist
Explore courses by designations similar to Data Scientist
Business Analyst Courses
Data Scientist Average Salary
The average salary of an entry-level data scientist is approximately ₹ 6 Lacs per annum and a mid-level professional earns around ₹ 9.7 Lacs per annum. Experienced or senior-level professionals earn about ₹ 15.5 Lacs per annum.
Data Scientist Career Benefits
Switching to a different profile or doing a certification course always raises the question of the validity of pursuing it. Check out the following reasons to know that you have made the right choice:
• Data scientists are one of the highest-paid professionals in the recent times
• It is an improvement in terms of career growth for software developers and business analysts who are interested in data
• Data analysts can earn more after switching to a data scientist profile
• Data scientists are considered rare in the industry and due to high demand, you can expect an attractive salary package
• Career does not stop at data scientist position; you can move ahead in your professional life
Which profiles can go for a Data Scientist profile?

The following profiles can make a comfortable switch to a data scientist profile:

• Data Analysts
• Software Developers
• System/Database Administrators
• Business Analysts

What is the Eligibility Criteria for a Data Scientist profile?

The data scientist position is generally for those who are highly-skilled in working with data. Thus most of the professionals come from backgrounds like engineering, statistics, maths, science and other related fields. The majority of these professionals hold a Master's or PhD degree.

Who can become a Data Scientist?

• Non-experienced professionals– If you are professional who wants to switch to data science but do not have the right skills, it becomes hard to get opportunities. You can go for professional data science certification courses to gain the requisite skills to become a data scientist.

• Experienced professionals-With the required experience in data science, it would be easy for you to get a good data scientist position in any industry.

Naukri Learning offers best-in-the-industry certification courses in data science that will help you to improve your career, get better jobs and higher salaries.

Why are candidates going for a Data Scientist profile?

Apart from the high level of average salaries that data scientists get, professionals are also interested in the profile as it is considered to be one of the coolest jobs in the technological arena. Hence, professionals from IT industry, or those have a mathematical or science background are looking to gain skills to become data scientists. Here are some of the common reasons:

• Testing Engineers/Software Developers/IT professionals:- Most Software Engineers/Developers, Testing Engineers or IT professionals know basic programming languages and hence, there is a high competition in the generic software development/testing market. On the other hand, Data Scientists are in demand and very few candidates are proficient in the technology associated with the field. Salaries offered are much higher than Software Developers on generic technologies. The career growth in data science is better in comparison to software development as the competition is low.

• Data Analysts/Business Analysts:- Data Analysts and Business Analysts with the requisite technical skills are very rare. Organisations look for data science who have these skills and are willing to provide a good pay package.

• System/Database Administrators- System and Database Administrators are looking to boost their career with a switch to data scientist profile. With the requisite skills they can work within their own organisation as most companies are moving towards the use of data to make business decisions.
What do recruiters want in a Data Scientist candidate?

Recruiters usually look for the following areas while hiring a Data Scientist:

• Prior Experience – Any prior experience in the field can make the recruiters interested in you. It is also great if you can have any transferable skills like programming, high-level analytics, distributed computing and visualising.

• Key Skills – R, Python, Java, Hadoop, Pig, Hive, Spark, SQL, SAS, data modelling, and machine learning.

Top Recruiters who hire Data Scientists

Data scientists are in great demand across all industries and some of the big companies are paying top packages to lure in skilled professionals. These organisations want data scientists to help them translate their business data into critical decision-making information to move towards the path of bigger success.
Some of the top companies who are hiring data scientists are Microsoft, Amazon, Adobe, Accenture, Deloitte and IBM.
Recommended skills for Data Scientist
Data Insights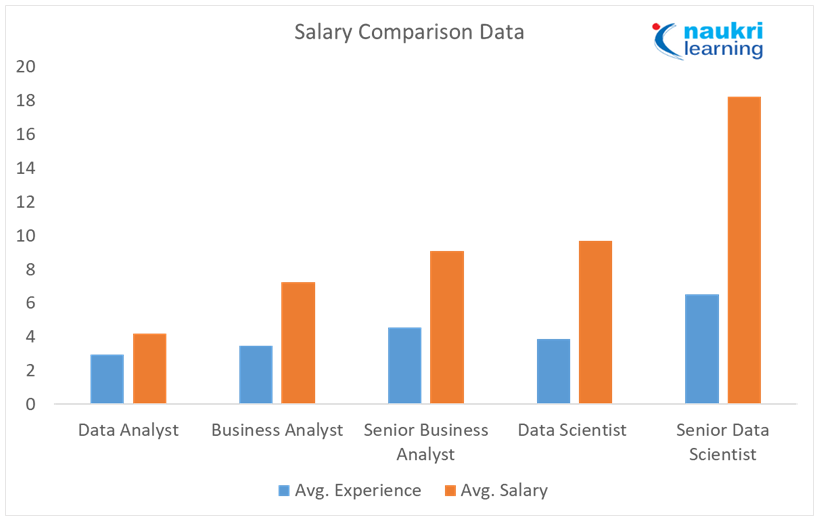 Companies Hiring




7202+ Jobs Available on Naukri