What is Data Analyst?
Role / Profile

Who can become ?

Recruiters/Job Opportunities
Who is a Data Analyst?


Data analyst is someone whose focus of problem solving and analysis relates to types of data and relationships between data elements in an IT system. He/she is responsible to investigate, gather and elicit useful data from large amount of information. Data analyst writes custom queries to answer complex business solutions and addresses data quality issues like biases and gaps in data acquisition.
What does a Data Analyst do?
There are data analysts everywhere across different industries and the basic role is to find out how data can solve business problems. Some of the common roles and responsibilities of a data scientist are:
• Collaborate with IT, management and other divisions to understand the organisational goals
• Mine data from different sources using their analytical skills combined with the tools available in the industry
• Analyse the mined data to look for important trends and provide conclusions on the findings
• Interpret the findings into reports which can be understood by management with the help of data visualisation
• Design, create and maintain databases and data systems
Skills/Tools associated with data analysis
• Analytical and statistical skills to analyse and interpret the data
• Knowledge of statistical and data visualisation tools like
Minitab, Tableau, Qlikview and
MS Excel
• Good communication skills to help others to easily understand the information acquired from data analysis
• Decent skills in scripting/statistical/querying languages like MATLAB,
Python, R,
SAS, SQL,
Hive
and Pig
What are the Career Outcomes after a Data Analyst certification?
Getting a data analyst certification
can propel your career into new dimensions and you can expect any of the following career outcomes:
•
Data Scientists
/Architects
•
Business Analysts
• Operations Manager
• Project Managers
• Team Leaders
What is the average salary of a Data Analyst?
The average salary for a Data Analyst with 0-3 years of experience is around ₹ 5.4 Lacs per annum, while that of a professional having more than 3 years of experience is around ₹ 7 Lacs per annum. The average salary for a professional with more than 10 years of experience is around ₹ 15 Lacs per annum. With a certification, you can get a better salary than the average mentioned here.
What are the career advantages of becoming a Data Analyst?
One of the most popular questions is that how can switching to a data analyst position can be beneficial for a professional. Here are some of the reasons:
• For Software Developers or IT Analysts/Testers, data analyst can be a level up in terms of salary for most professionals.
• Data analysis is a prominent field across all industries and it is going to offer good career growth in the future.
• Those who have an analytical bent of mind and is looking for more challenges, data analyst can bring in loads of opportunities.
• Due to the high demand for professionals in data analysis, the chances of getting a better package is higher than traditional IT jobs.
Which profiles can go for a Data Analyst?

• MBA/Engineering/Finance graduates
• Software Developers /Engineers
• IT/Test Analysts
• System/Database Administrators

What is the Eligibility Criteria for a Data Analyst profile?

There are no fixed eligibility criteria to become a data analyst. However, it is preferable to have one or more of the following skills – programming, data mining, data visualisation, Machine learning and database querying. Also, most of the data analysts are graduates in Engineering, Science, Maths, Statistics or any other related field.

Who can become a Data Analyst?

Fresh graduates – If you are a fresh graduate and want to become a data analyst, you can easily get opportunities if you have the skills and enrolling in a certification course can help you a lot.

Non-experienced professionals -If you do not have experience in data analysis, recruiters may hire you as junior data analyst or you may have to start as an entry-level professional. Hence, candidates take up a certification course in to gain the required skills and switch to a mid-level or senior-level position.

Experienced professionals – With the required experience in data analysis, it would be easy for you to get a job.

Naukri Learning offers various online courses for aspiring data analysts, business analysts to help them improve their career, get better jobs and higher salaries.

Why are candidates going for a Data Analyst profile?

Data is the new money in this world of information and businesses are trying to get the most out of it with the help of professionals who are expert in analysing data. There is a huge scope for growth and you can be in one of the most in-demand industries in the world. A lot of professionals who are from engineering, science or commerce background are looking to become data analysts. Following are some of the major reasons:

• MBA/Finance/Engineering graduates- Analysts are in high demand across all sectors and there are various opportunities for those who have the skills or are certified. This is why fresh graduates want to go for a data analyst certification. The career growth is high in data analysis and data science for better career advancement. Explore Data Science Courses here,

• Software Developers, IT Analysts and Test Analysts- There is a high demand for skilled data analysts. More and more software developers are nowadays moving to the roles of data analysts as they have many common skills, including knowledge of programming languages, tools and methods for thriving at job. A professional certification in data analysis can further offer an extra edge and help an individual to stand out from the crowd.

• System/Database Administrators- System and Database Administrators are looking to boost their career with a switch to data analyst profile. With the requisite skills they can work within their own organisation as most companies are moving towards the use of data to make business decisions.
What do recruiters want in a Data Analyst candidate?

Recruiters usually look for the following areas while hiring a Data Analyst:

• Prior Experience – Any prior experience in the field can make the recruiters interested in you. It is also great if you can have any transferable skills like programming, good visualisation skills and database knowledge.

• Key Skills – R, Python, Java, Hadoop, Pig, Hive, Spark, SQL, SAS, Minitab, Tableau, Qlikview and MS Excel.

Top Recruiters who hire Data Analysts

Data analysts are in great demand across all industries and there is a good career path for those who want to move up the professional ladder. There are a lot of top organisations that want data analysts to help them to make better use of their data or provide the right insights that will help them in their business activities.

Some of the top companies who are hiring data scientists are Ernst & Young, IBM, Accenture, HCL, TCS, Deloitte and WNS.
Recommended skills for Data Analyst
Data Insights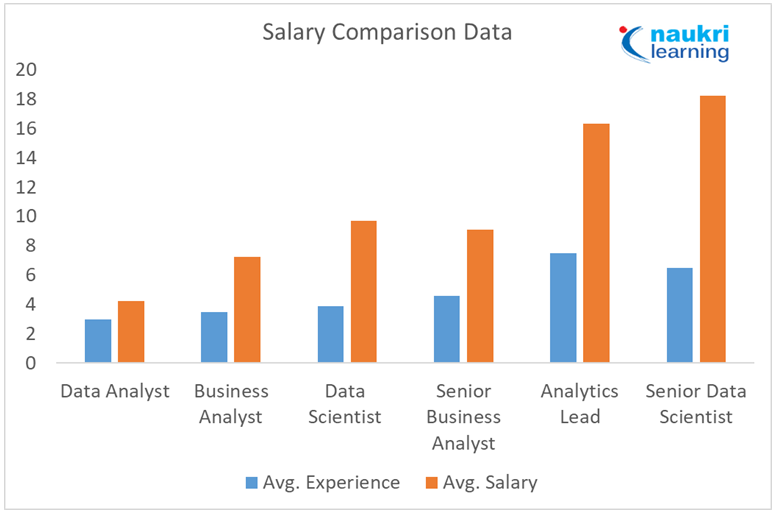 Companies Hiring




7202+ Jobs Available on Naukri
Other Career Paths for Data Analysts