What is a Chartered Accountant?
Role / Profile

Who can become ?

Recruiters/Job Opportunities
Who is a Chartered Accountant (CA)?


A Chartered Accountant (CA) is a member of the Institute of Chartered Accountants of India (ICAI) and works in various fields of business and finance, including audit, taxation, financial and general management. Associate level members get the title of Associate Chartered Accountant (ACA) and those who have practiced for more than 5 years are given the title of Fellow Chartered Accountant (FCA).
What are the roles of a CA?
The role of a CA encompasses a wide range of activities from simple book-keeping to complex financial analysis. Some of the prominent responsibilities of a CA are:
• Managing financial systems and budgeting of an organisation.
• Undertaking financial audits as an individual or as a part of a finance team of an organisation.
• Working with clients to provide them with financial information and advice.
• Budgeting, forecasting and monitoring expenditure to maintain operational cost of an organisation.
• Advising clients on tax planning and other tax activities related to acquisitions and mergers.
• Helping clients to detect and prevent fraud through forensic accounting.
What are the skills required to become a CA?
For a successful career in CA, a professional must have the following skills:
• Good understanding of financial and business environment under which organisations operate.
• High-level numerical, analytical and problem-solving skills.
• Excellent attention towards details, with a methodical and logical approach to solving problems.
• Expertise in various financial and accounting techniques.
• Clear communication (verbal and non-verbal) skills.
What are the career outcomes with a CA certification?
With a CA certification, you can have a number of career options. Some of these opportunities are: Tax/Accounting Consultant
• Account Manager/Financial Controller/Credit Manager
• Financial Analyst/Finance Manager
• Sales Manager
• Investment Banker/Stock Broker
• Independent practice
What is the average salary of a CA?
The average salary of an entry-level CA is around ₹ 6.5 Lacs per annum, while a mid-level professional earns approximately ₹ 10.5 Lacs per annum. Experienced or senior-level professionals earn on an average about ₹ 16 Lacs per annum. The salary of an individual may vary according to the experience, qualification and the type of organisation.
What are the career advantages of becoming a CA?
CA is a prestigious profile and has numerous career advantages. Following are some of the prominent reasons to become a CA:
• As it is one of the toughest examinations, you get to enjoy a lot of recognition when you succeed.
• Many organisations and individuals prefer to take financial advice from someone who is a CA.
• You get the opportunity to work with some of the biggest financial organisations across the globe.
• A CA goes through rigorous training and acquires an in-depth knowledge to enter into higher echelons of an organisation.
Which profiles can go for a CA role?

Anyone who is interested in finance, banking and management can go for a CA role. Some of the profiles which can benefit as a CA are:

• Fresh Graduates
• Finance Executives
• Staff Accountants
• Bank clerks

Who can become a CA?

• Fresh Graduates – Most fresh graduates in the finance field has a dream of becoming a CA. It takes a lot of hard work and training. To be successful, you can always go for a professional CA training course.
• Non-experienced professionals – Professionals who do not have the right amount of accounting and finance experience or knowledge can also become a CA if they have the dedication. Also, a professional course in CA can help you to succeed.
• Experienced professionals – Professionals who are already working in the finance industry can improve their chances of becoming a CA with the right amount of knowledge that one can acquire through a CA certification course.

Naukri Learning offers a variety of courses in accounting and finance that will help you prepare for the CA examination.

What is the eligibility criteria to become a CA?

The CA exam has three levels (Foundation, Intermediate and Final) and there are basically two different paths to become a CA:

• The first path is to successfully complete the Foundation level exam after passing the Class X exam. When one passes the Class XII exam, the Intermediate level can be successfully completed. Finally, one can pass the Final level exam and take ICAI membership to become a CA.
• For graduates and post-graduates, they can directly go for the Intermediate level exam and upon passing it they can appear for the Final level exam. Upon passing the Final level exam, they can take ICAI membership to become a CA.

Why are candidates going for a CA profile?

• Fresh Graduates – For fresh graduates, CA is one of the biggest leaps in their career. It provides a gateway for a successful career journey in the finance industry.
• Staff Accountants/Finance Executives – As a CA, staff accountants and finance executives can improve their knowledge and get certified as a highly-skilled professional. This will help them to move up the professional hierarchy easily.
• Bank clerks – For bank clerks, becoming a CA can help them move ahead in their career journey. Also, a CA can earn better packages as compared to a bank clerk.
What do recruiters look for in a CA candidate?

Recruiters usually look for the following areas, while hiring a CA:

• Prior experience – Companies prefer to hire CAs who have prior experience in the profile they are hiring for. However, it is not a necessity and you should only have the skills associated with the profile. You can go for a certification course to improve your employability.
• Key skills – Accounting, auditing, financial analysis, taxation, cost accounting, and financial reporting.

Who are the top recruiters that hire CA?

There are numerous companies looking forward to hiring CAs to have a strong finance division or provide the best-in-the-industry financial services. Some of the biggest names in the financial industry are JP Morgan, Genpact, Ernst & Young, PwC, Reliance Capital and Accenture.
Data Insights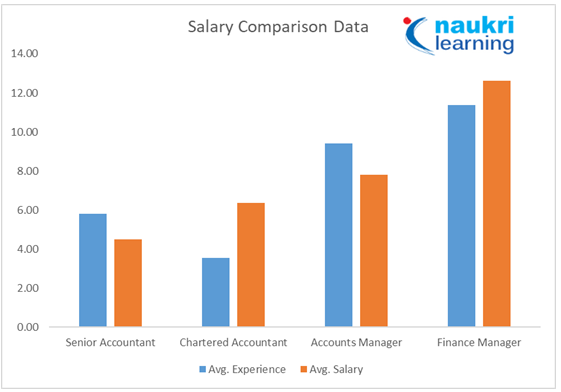 Companies Hiring