What is Big Data Architect?
Role / Profile

Who can become ?

Recruiters/Job Opportunities
Who is a Big Data architect?


A Big data architect is trained to describe the structure of a big data solution. He/she is responsible for planning next generation big data systems and deployment of Hadoop applications. In addition to this, He/she has to design solutions for multiple large data warehouses as well as good experience with big data solutions like Hbase , Hadoop, Cassandra, etc.
What does a Big Data Architect do?
A big data architect addresses big data problems and needs. It is required in any company to build a big data environment premises. He/she is responsible for managing the complete lifecycle of Hadoop solution encompassing design of technical architecture, testing, requirement analysis and the platform selection.
Profile
The role of a big data architect is a technical one, but he/she should have skills that define data structures and data integration practices for operational uses or business intelligence.
• To be able to articulate advantages and disadvantages of various technologies and platforms.
• To have excellent communication skills
• To be able to help project management in the design and governance of implementing projects of any kind
• To be able to lead the team in infrastructure setup phases
• To be able to work with huge volumes of data to drive business intelligence
• To be able to uncover information, propose data-driven strategies and analyze data
• To be able to work in a fast- paced agile development environment
Skills required to become a Big Data Architect
• Knowledge in statistics and applied math
• Experience in
data mining
and data analytics
• The ability to implement
NoSQL
,
MapReduce
and
Cloud computing
• The ability to portray and conceive big data picture
• Enthusiastic, well respected and influential
What are the Career Outcomes after a Big Data Architect certification?
If you are considering building a career in big data architecture, with a
certification in Big Data
you can take benefit of the skills and you will develop. These are a few of the career opportunities available for those moving in a big data domain.
• Data engineer
• Big data consultant
•
Big data developer
•
Data scientist
• Machine learning engineer
What are the advantages of becoming a Big Data Architect?
• Anyone can become a successful big data architect without the algorithmic and technical skills that organizations look for. Investing time and money for the training will open up an ocean of opportunities out there
• Strong demand for data architect is boosting the wages for qualified experts
• Numerous choices in job titles
• A bigger field to rise higher
Which profiles can go for a Big Data Architect?

Market for big data architect is growing all across the world. If you are from IT background, it is very easy for you to learn numerous tools based on your comfort. Few popular big data profiles are:
• Software engineers
• Freshers
• Mainframe professionals
• ETL professionals
• Project managers
• Data warehouse professionals
• Analytics professionals

Who can become a Big Data Architect?

Fresher- To become a big data architect, one should have hands-on experience in big data technologies. If you don't have 3-10years of experience in the IT domain, gain extensive skills in analytics platforms, management, modeling and RDBMS systems.

Non-Experienced professionals –-Whether you are a professional or outside the field, you can build a career as a big data architect . Take up a big data architect certification designed to impart an in-depth knowledge in big data technologies like spark, impala, Hadoop and more.

Experienced professionals –- You got to have advanced analytical skills to become a data architect. Your years of experience of information management and application design will increase your chance to work in multiple industries. Apart from this, you need to be strong with data processing and solving new and old problems.

What is the Eligibility Criteria for a Big Data Architect profile

To become a data architect, you should have a bachelor's degree in computer science or any other related domain. The main aspect of your employment application will be experience of atleast 5years dealing with performance management, network management or application architecture.

Why are candidates going for a Big Data Architect profile?

Data is something that organizations deal with every day as we are in the era of big data. Off course, a good understanding of hardware platforms encompassing distributed platforms, mobile devices and desktops is required to be the perfect big data architect. This role involves more than just making certain data centers are accessible, secure and co-located. The demand for big data architect is intensifying and you can expect to grow in next 10 years. Now, candidates want to learn new skills to understand the requirement of the users and build data that will answer their issues now and in future. One needs to be proactive and innovative to focus on the task.
What do recruiters want in a Big Data architect candidate?

Recruiters look for qualified candidates who can analyze client operations, maintain database by determining structural requirements and install database systems by developing flowcharts. They look for the people with skills in business analytics, data modelling and big data.

Key Skills:Data architecture, data warehousing, SQL, Core Java, Architectural design, etc.

Top Recruiters who hire Big Data Architects

Nowadays, big data field is hot, and it is impossible that this will change in the coming years. Many renowned firms like Amazon, IBM, Google and Oracle are hiring data architects with skills and talents in data warehousing solutions, data modeling and system development.
Recommended skills for Big Data Architect
Data Insights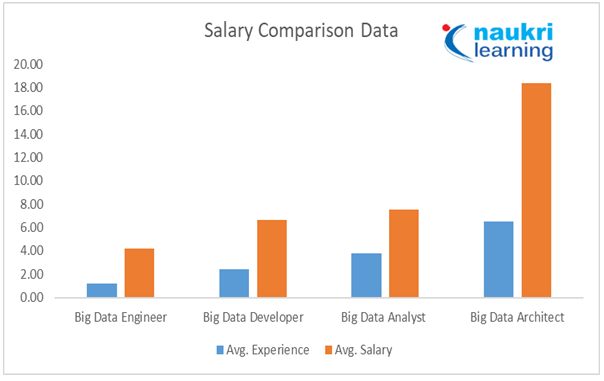 Companies Hiring


2351+ Jobs Available on Naukri